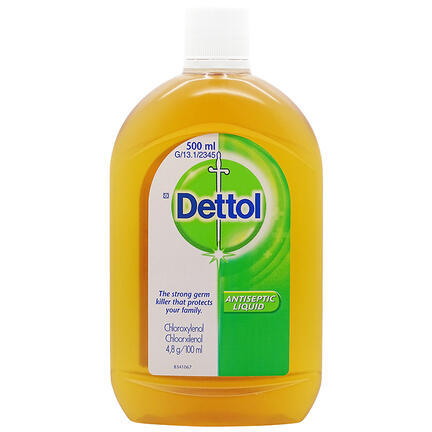 Dettol Liquid Antiseptic Disinfectant 500 ml
130,00 kr.
Item number: 60050298
What Is Dettol Liquid Antiseptic Disinfectant?
Dettol Liquid Antiseptic Disinfectant is a proven, safe and effective concentrated antiseptic disinfectant, that kills bacteria and provides expert protection against the germs which can cause infection and illness.
Uses for Dettol Liquid include:
Gentle antiseptic wound cleansing
Disinfection
Antiseptic skin cleansing
As a disinfectant in and around the home
Should I Take Any Precautions When Using Dettol Liquid Antiseptic?
When using Dettol, please take note of the following:
For external use only

If swallowed, wash mouth out and drink plenty of water or milk
If contact is made with eyes, wash thoroughly with cold water
In both cases, consult your doctor and take this bottle with you
Do not use after expiry date printed on the bottle
Not recommended for use around cats
Not for eczematous conditions
Do not use undiluted when using for medical and personal hygiene reasons
What Are The Ingredients In Dettol Antiseptic?
Dettol contains: Chloroxylenol B.P.4.8% w/v. Also contains: Pine Oil, Isopropyl Alcohol, Castor Oil Soap, Caramel, Water.
500ml