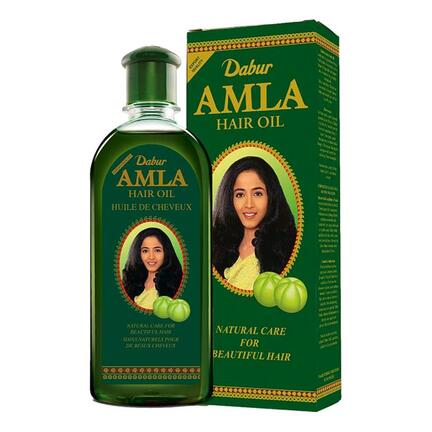 Dabur Amla Hair Oil 300ml
95,00 kr.
Item number: 5022496101363
Amla: The 'superfruit' Amla is rich in vitamin C, essential fatty acids, iron, and carotene. It reduces hair fall, stimulates hair growth, keeps dandruff and premature greys away.
Henna: The natural anti-fungal and anti-microbial properties of Henna are soothing to an itchy scalp, and help prevent dandruff. Henna also moderates oil production and restores the pH of the scalp.
Almond: Almonds are a great source of nutrients including magnesium, healthy fatty acids, vitamins A, D, B1, B2, and B6. They boost hair health, reduce inflammation, and lend shine and strength to your locks.
Canola oil: The nourishing properties of canola oil include providing moisturisation to dry and frizzy hair, preventing dandruff issues, and protecting them against UV damage.
Elaeis guineensis oil: The abundance of vitamin E and antioxidants in Elaeis guineensis oil (red palm oil) strengthens the roots to reduce hair fall, promotes hair growth, and prevents premature greying.