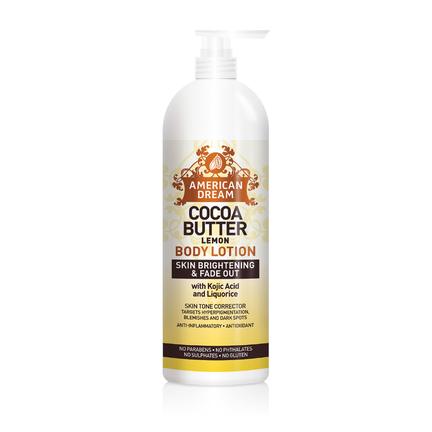 American Dream Cocoa Butter Lotion Lemon 473 ml
109,00 kr.
Item number: 5035620044269
American Dream Cocoa Butter Lemon Body Lotion 16oz

with Kojic Acid and Liquorice
Skin brightening skin tone corrector

Want to even out blemished skin? Then the American Dream Cocoa Butter Lemon skin brightening range, has been created just for you. As well as moisturising all skin types, thanks to the anti-oxidants, anti-inflammatory and antispetic properties found in these multi tasking products, they can also help to reduce dark spots and hyperpigmentation, prevent blemishes and smooth away stretch marks, all awhile providing your skin with a brightening glow.

A brightening formula that helps reduce the appearance of hyperpigmentation, blemishes, uneven skin tone, age spots and stretch marks.

Infused with Lemon essential oil, leaving skin moisturised, smooth and glowing.
Intense skin relief
Kojic Acid - brightens and treats sun damage, scars and age spots
Liqourice - brightens and soothes inflammation
Lemon Oil - tightens and tones
Anti-inflammatory and antioxidant
No parabens, no phthalates, no sulphates, no gluten
Ideal for use after shower or bathing.
473 ml